Anchorage & Harbour Charts
The chartlets of the Bras d'Or Lakes and Chedabucto Bay are based on those originally published in Cruise Cape Breton. They have been enhanced or redrawn using computer graphics software and information gleaned from various sources, including the Canadian Hydrographic Service (CHS), National Resources Canada (NRC), Nova Scotia Land Registry Information System (LRIS), satellite imagery, aerial photographs, and recent observations. Most of these resources were unavailable to their original creator. The hydrography in the charts is based on that given in the Cruise Cape Breton charts, initially prepared by Roy Mac Keen—a founding member and Past Commodore of The Dobson Yacht Club. Names of places and geographic features have generally been revised to conform to those given on current CHS charts to avoid confusion.
These charts are intended to provide cruisers with supplementary information and detail, unavailable in the large-scale CHS charts. They are NOT a substitute for the Canadian Hydrographic Service (CHS) charts.
Cruisers are 'Urged to Use Caution' in using the chartlets, since most of the soundings in these charts were taken in 1974, and that for some of the large-scale charts, there were inaccuracies in the shorelines, which have been corrected in these revised charts. However, that made placing some of the soundings difficult. Charts listed in BLUE will be added in due course. It is hoped that more areas of Cape Breton Island be included in the future. Some charts that were included in the original Cruise Cape Breton have been omitted where CHS charts now provide adequate or better detail (e.g. Chapel Island). This is a work-in-progress.
Should you have any more up-to-date information or suggestions to enhance the accuracy or usefulness of these charts, please contact the editors or fill in the form below, and click the 'SEND' button.

Clicking on the title of a chart will bring up the chart in PDF-format (with additional information when followed by a diamond ♦), suitable for saving, viewing, or printing as a double-sided page for reference aboard your vessel. Each Key Chart is also downloadable, and is the chart listed first for each area.
NOTE: All soundings in FEET, north arrow indicates TRUE NORTH. See Symbols & Abbreviations
See also notes on Buoyage
Click on a KEY CHART to enlarge the image.

I — Chedabucto Bay
Chedabucto Bay —
Isle Madame & Lennox Passage
Chedabucto Bay—Overview
♦
D'Escousse
♦
Bourgeois Inlet
♦
Couteau Inlet
♦
Intracoastal Waterway
♦
 —Lennox Passage to West Arichat
Petit-de-Grat
♦
II — Bras d'Or Lakes System
Bras d'Or Lakes Areas
Bras d'Or Lakes—Overview
♦
Draft & Mast Height Restrictions
St Peters Inlet
St Peters Inlet—Key Chart
St Peter's & Canal
♦
St Peters Inlet—Charts A & B
♦
Cape George Harbour
♦
MacNabs Cove
♦
Johnstown Harbour
♦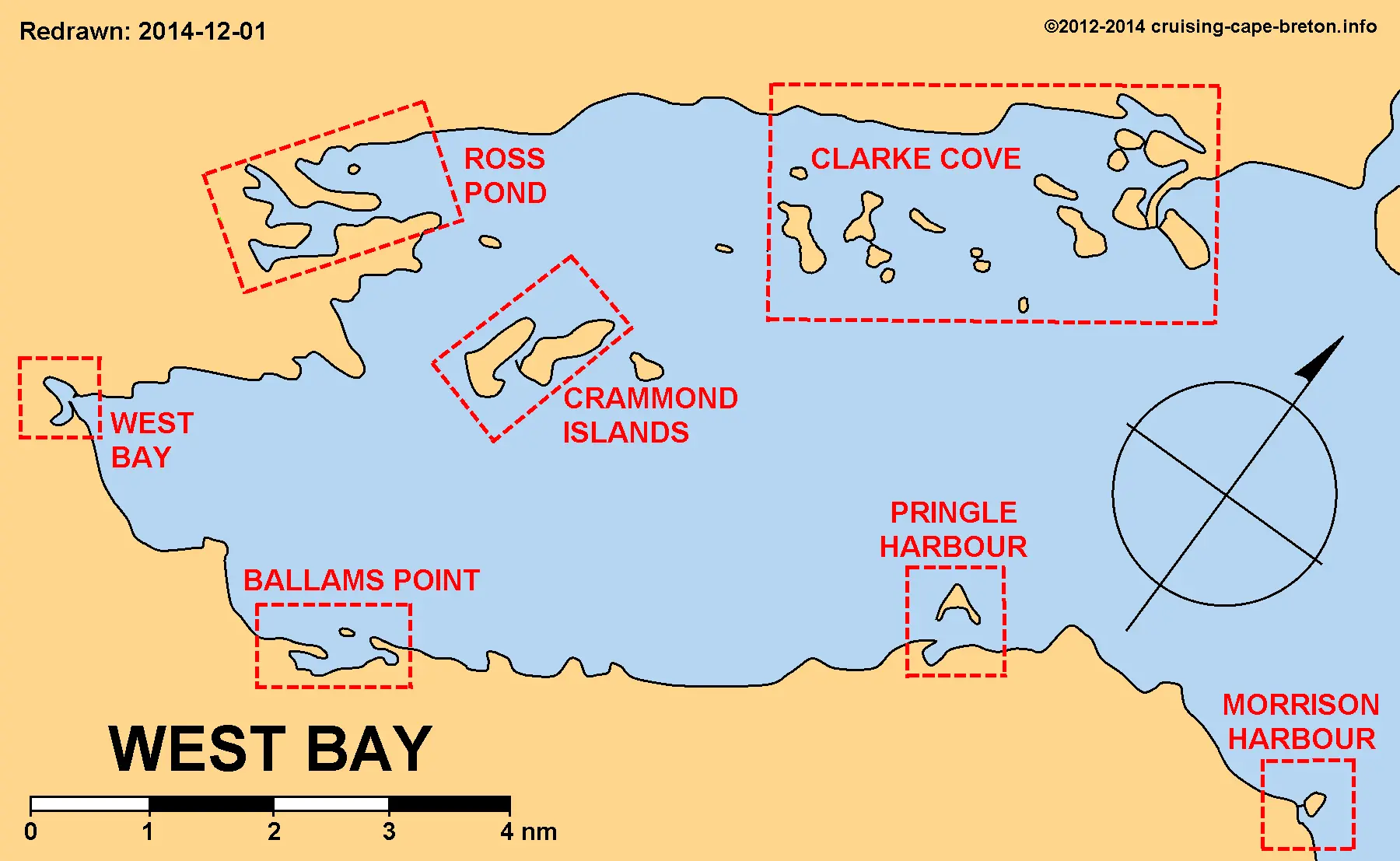 West Bay
West Bay—Key Chart
Morrison Harbour (Morrison Head)
♦
Pringle Harbour & MacLeods Pond
Ballams Point (Dundee Resort)
♦
Head of West Bay Cove
♦
Crammond Islands
♦
Ross Pond
♦
Clarke Cove (Marble Mountain)
♦
Malagawatch & Basins
Malagawatch—Key Chart
Little Harbour
♦
Malagawatch Hbr & MacReas Cove
♦
McKinnons Harbour
♦
Entrance to North & Denys Basins
Alba & Estmere
♦
Cassells & Crooked Coves
North Basin
♦  
•
Morrison Cove
♦  
•
Blues Cove (Orangedale)
♦
Denys Basin
♦
East Bay
East Bay—Key Chart
MacPhersons Pond
♦
Christmas Pond
♦
McPhee Islands
North Side East Bay—Charts A & B
♦
St Patricks Channel
St Patricks Channel—Key Chart
Baddeck Bay
♦
Washabuck River & MacIvers Cove
♦
MacNaughtons Cove
Little Narrows
♦
Whycocomagh
Maskells Harbour
♦
St Andrews Channel
St Andrews Channel—Key Chart
Shunacadie & Black Point
♦
Island Point Harbour
Long Island
Georges River
♦
Little Bras d'Or
Great Bras d'Or Channel
Great Bras d'Or—Key Chart
Big Harbour
♦
Otter Harbour
♦
Seal Island
III — St Anns Harbour
St Anns Harbour—Overview
♦
Jersey Cove & St Anns Harbour Entrance
♦
Goose Cove & North River
♦
Seal Cove
♦
North Gut & South Gut
♦
IV — Highlands Coast
Highlands Coast—Overview
Little River
♦
South Ingonish Harbour
♦
Ingonish Harbour
Neils Harbour
♦
Dingwall
Bay St Lawrence
♦
Pleasant Bay
♦