Anchorage & Harbour Charts
The chartlets of the Bras d'Or Lakes and Chedabucto Bay are based on hydrography given in the Cruise Cape Breton charts, initially prepared by Roy Mac Keen—a founding member and Past Commodore of the Dobson Yacht Club. All charts have been prepared with computer graphics software, and incorporate recent observations and information from various sources; the Canadian Hydrographic Service (CHS), National Resources Canada (NRC), Nova Scotia Land Registry Information System (LRIS), satellite imagery, aerial photography, and recent sonar data. Most of these resources were unavailable to their original creator. Names of places and geographic features have generally been revised to agree with those given on current CHS charts to avoid confusion.
These chartlets are NO SUBSTITUTE for CHS charts.
They provide supplementary information and detail, unavailable in large‑scale CHS charts, and are intended to be a handy reference for helmspersons.
One advantage of having chartlets in a loose-leaf binder instead of a bound guidebook is that they are easily slipped into a plastic, protective sleeve for use on a clip-board at the helm. If water damages it, you've only one page to replace. Another is that it is easy to replace a chart when an updated version is issued.
Cruisers are 'Urged to Use Caution' in using the chartlets. Many soundings were made in 1974. Some original small-scale charts, had mapping inaccuracies, which have been corrected in the redrawn charts; this made placement of some soundings uncertain. Other areas of Cape Breton Island are gradually being included. Some charts that were included in the original Cruise Cape Breton have been omitted where CHS charts now provide adequate or better detail (e.g. Chapel Island). This is a work-in-progress…
We invite cruisers and boaters with more up-to-date information, or suggestions to enhance the accuracy or usefulness of these charts, to Contact Us or post on our Forum.

Clicking on the title of a chart will bring up the chart and information in PDF-format, suitable for saving, viewing, or printing as a double-sided page for reference aboard your vessel. The Key Charts shown below are included in the 'Overview' for each area.
Experience Boating!
Looking to charter?
Coming without a boat?
Like to try Sailing?
Want to go Kayaking?
See
Experience Boating
for hands-on boating experiences our Cape Breton operators have to offer…
CHART BOOKS in PDF-format (eBook) are now available for download and printing, where the muli-page PDF symbol is shown. See Downloads for more information.

We're building photo galleries for these areas. To see these pictures you must have an Internet connection. Look for the camera image. If you have some suitable pics—Send 'em in!
NOTE: All soundings in FEET, north arrow indicates TRUE NORTH.
See Symbols & Abbreviations. See also notes on Buoyage.
Click on a KEY CHART to enlarge the image.

I — Chedabucto Bay
(Isle Madame, Lennox Passage & Strait of Canso)
Chedabucto Bay—Overview
D'Escousse
Bourgeois Inlet
Couteau Inlet
Lennox Passage Bridge
Intracoastal Waterway
 —Lennox Passage to West Arichat
Petit-de-Grat Harbour
Pirate Harbour
CHART BOOK
—Chedabucto Bay
II — The Bras d'Or Lakes System
Bras d'Or Lakes—Overview
Draft & Mast Height Restrictions
CHART BOOK
—Bras d'Or Lakes System
Bras d'Or Lakes Photo Gallery
St Peters Inlet
St Peters Inlet—Overview
St Peter's & Canal
St Peter's Lock Hours
St Peters Inlet—Charts A & B
Cape George Harbour
MacNabs Cove
Johnstown Harbour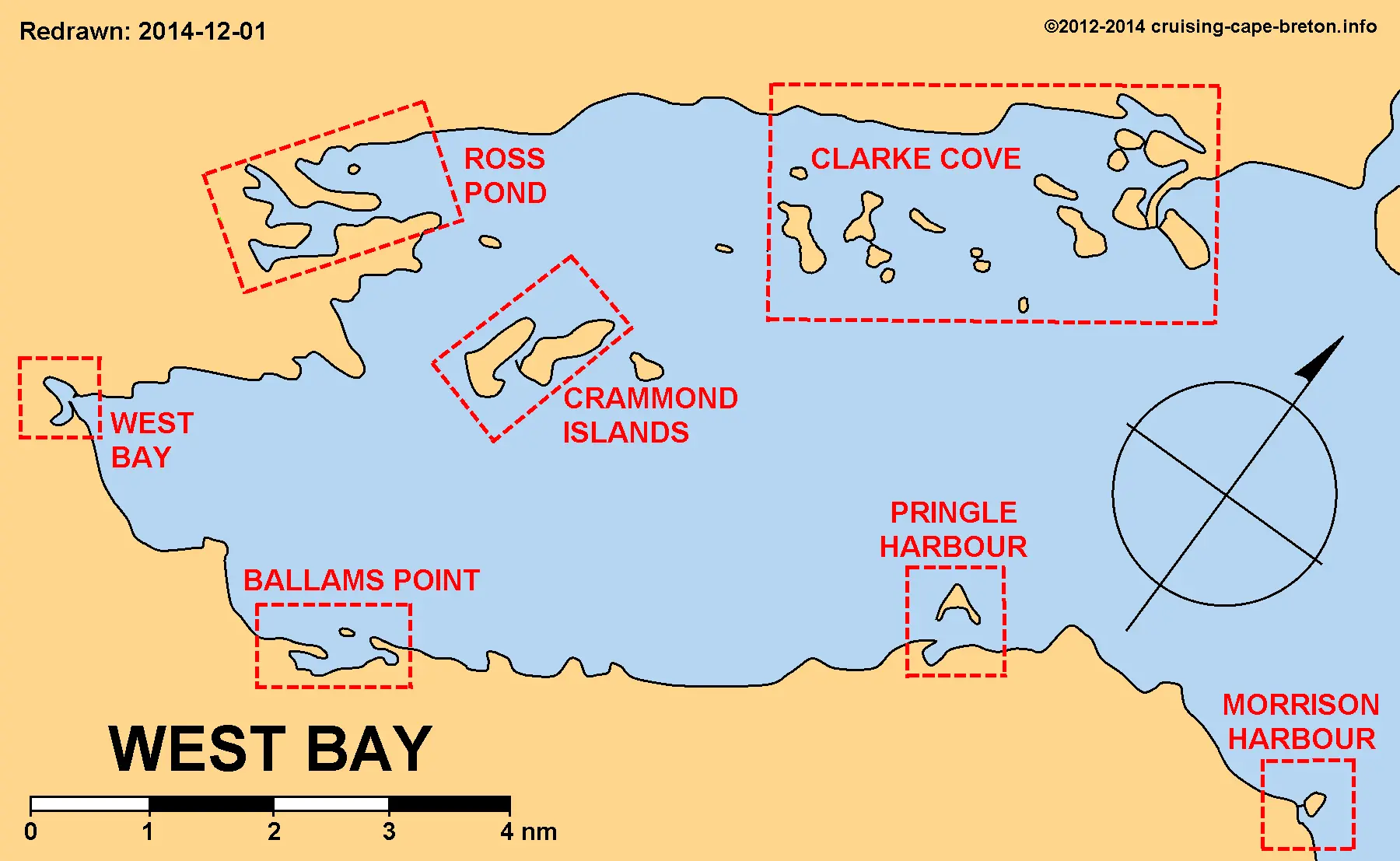 West Bay
West Bay—Overview
Morrison Harbour (Morrison Head)
Pringle Harbour & MacLeods Pond
Ballams Point (Dundee Resort)
Head of West Bay Cove
Crammond Islands
Ross Pond
Clarke Cove (Marble Mountain)
Malagawatch & Basins
Malagawatch—Overview
Little Harbour
Malagawatch Hbr & MacReas Cove
McKinnons Harbour
Entrance to North & Denys Basins
Alba & Estmere
Cassells, Crooked, & Wide Cove
North Basin
•
Morrison Cove
•
Blues Cove (Orangedale)
Denys Basin
East Bay
East Bay—Overview
MacPhersons Pond
Christmas Pond
McPhee Islands
North Side East Bay—Charts A & B
St Patricks Channel
St Patricks Channel—Overview
Baddeck Bay
Baddeck Harbour
Washabuck River & MacIvers Cove
MacNaughtons Cove
Little Narrows
Whycocomagh
Maskells Harbour
St Andrews Channel
St Andrews Channel—Overview
Shunacadie & Black Point
Island Point Harbour
Long Island
Georges River
Little Bras d'Or
Great Bras d'Or Channel
Great Bras d'Or—Overview
Big Harbour
Otter Harbour
III — St Anns Harbour
St Anns Harbour—Overview
Jersey Cove & St Anns Harbour Entrance
Goose Cove & North River
Seal Cove
North Gut & South Gut
CHART BOOK
—St Anns Harbour
St Anns Harbour Photo Gallery
IV — Highlands Coast
Highlands Coast—Overview
NVSPHA
Little River
South Ingonish Harbour
Ingonish Harbour
Neils Harbour
Dingwall
Bay St Lawrence
Pleasant Bay
Lobster Fishing Season—2014
Lobster fishing season for the Highlands Coast region:
East Coast — from Cape St Lawrence south:
May 13 to July 12
West Coast — from Cape St Lawrence south:
May 1 to June 30
CHART BOOK
—Highlands Coast
Highlands Coast Photo Gallery
Revised: 2015-03-02
Register HERE